| | |
| --- | --- |
| | MUSIC |
Some of the greatest music ever made.


CONTENTS
Amazing stuff from Moodswings - hard to describe without making it seem less than it is.
Passion by Peter Gabriel. Decidedly different from most of his other albums. Dark, moody, and completely spell-binding.
Covers to two of Enigma's albums. Vocals and rhythms, meshing the primitive and techno.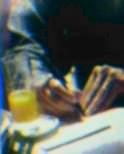 David Lanz, amazingly beautiful, yet simple compositions performed primarily on the acoustic piano. You don't need a lot of frills to make moving music. From Narada.
Described as sheer sonic beauty by popular magazines. If there's one artist you should not miss, it's Enya.

Other Music Sites
My thesis on computer composition.
Once upon a time I wrote:
Four Leaf Clover,
Haymarket in May,
Alone Again,
Rain Dance,
Ignorance and Apathy,
Ode to Milton Friedman,
Even If It's a Lie.
Excellent resource for those interested in MIDI - find MIDI archives.